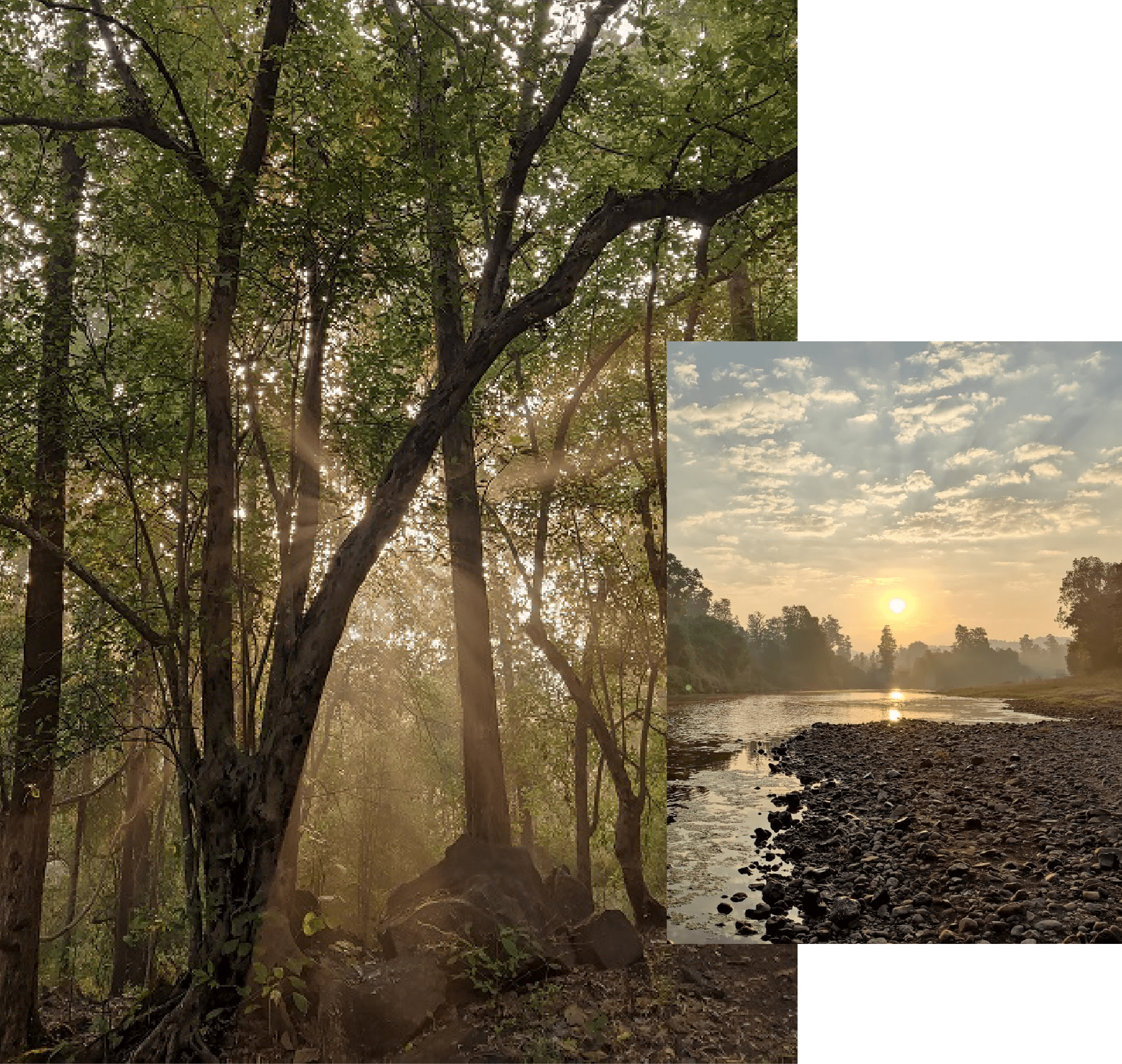 a Serene world awaits for you! - place best for relaxing with mother nature
Mahal Eco tourism campsite, located in Purna Wildlife Sanctuary in Dang in the state of Gujarat is surrounded by mountains in a natural setting. A perfect getaway for you and your family, a destination to experience mother nature's gentle touch.
Mahal Campsite has a variety of options for Accommodation for night stay. It is an ideal place to experience Nature Trails in the forest area along with Guides.
We do provide visitors with meals (Gujarati and Dangi), Snacks and quick bites during their visit.
The visitors can also get souvenirs, local food grains and eatables which are available from the Purna Souvenir Store.
Three type of Accommodations
Go on Nature Trail Walks with Guide in the sanctuary
LOL! Talk with each other and pretend it's 1995!
The room rates shown are without food charges. You can get food at the Campsite from the Dining Hall. All accommodations shown are Non-AC.
Only 4 person (Adult+Children) are included in each room. 
In Log Huts and Suites there is one double bed which is for two person. In case of extra person you will get a floor mattress.
After making the payment you will receive a Booking Confirmation mail from us.
In case the booking is not confirmed due to any technical issues then your payment shall be refunded to your bank account within 5-7 working days.
Prices start at: ₹1,300 per night (+taxes and fees)
Details
Prices start at: ₹2,350 per night (+taxes and fees)
Details
Guests:

4

Bed Type:

Double Bed
Prices start at: ₹3,150 per night (+taxes and fees)
Details
Guests:

4

Bed Type:

Double Bed
cultural and culinary workshop

recreational games & sports
WHAT CAN YOU DO AT MAHAL CAMPSITE?
We have a bunch of experiences to choose from for your visit at Mahal Campsite to be pleasant and fun. One can either go on a Nature Trail in the sanctuary along with a Guide or participate in cultural and culinary workshops organized.
One can opt to sit along a campfire or look out for shooting stars in the night, or make a visit to find amazing species of birds and butterflies present in the sanctuary during the day.
*Workshops and Recreational Games & Sports are subject to availability.
experience Purna Wildlife Sanctuary at it's best!
Mahal Campsite is the right choice for nature enthusiasts who are searching for a combination of leisure and calmness.
Reaching us fairly easy. While coming to the Campsite one can experience the lush dense forests of Purna Wildlife Sanctuary which are a delight to the eyes. Search for Mahal Campsite on Google Maps and use the 'Directions' to navigate to the Campsite.