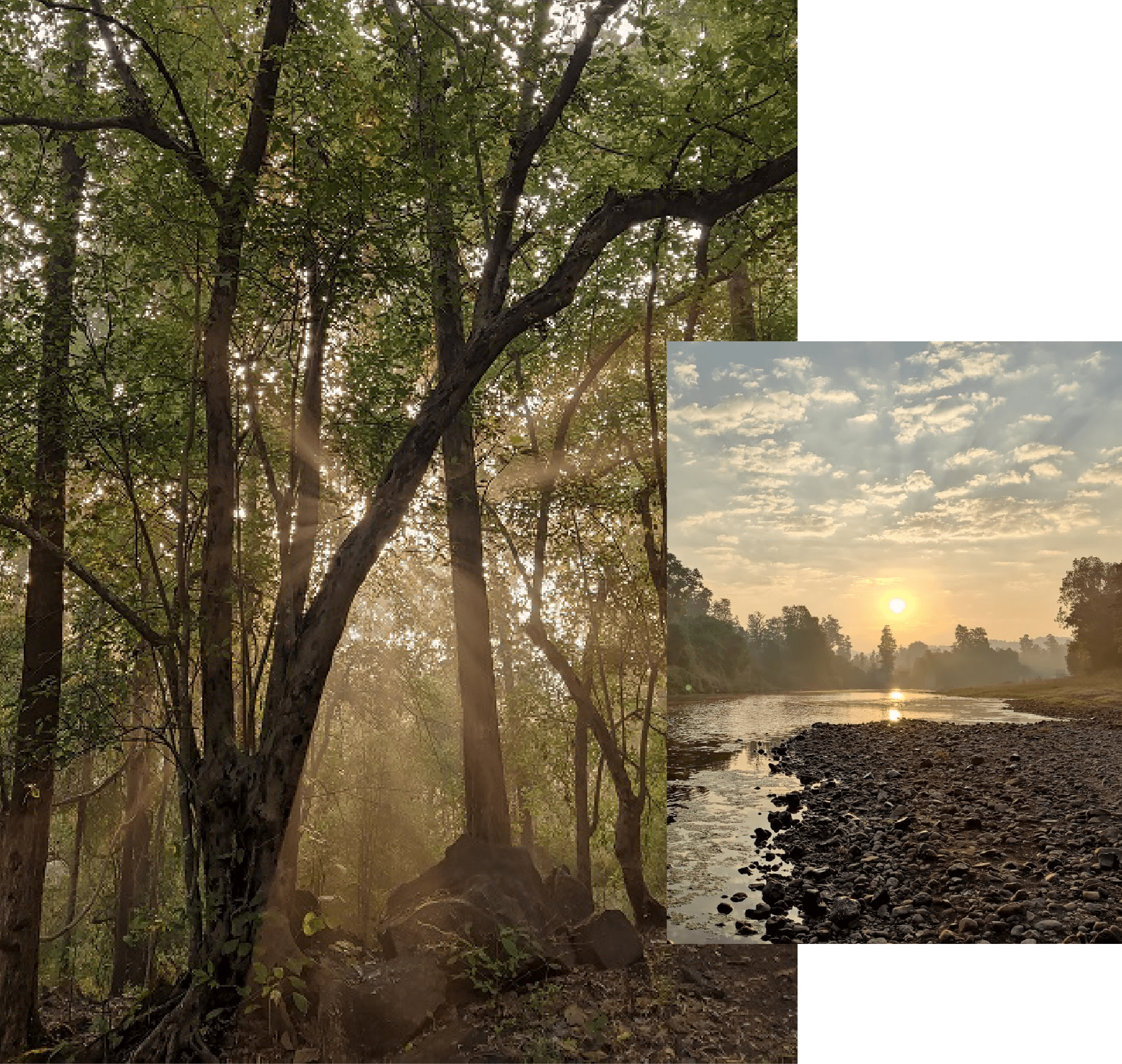 Embark on a Serene Journey - Where Relaxation Meets Mother Nature's Embrace
Welcome to Mahal Eco Tourism Campsite, a serene escape within Gujarat's Purna Wildlife Sanctuary. Embrace nature's embrace amidst mountains—a perfect family getaway where tranquility and the wild harmonize.
Discover a range of accommodation options at Mahal Campsite, perfect for a night's stay. Immerse in Nature Trails with expert guides through the forest. Indulge in authentic Gujarati and Dangi meals, snacks, and local souvenirs
Three type of Accommodations
Go on Nature Trail Walks with Guide in the sanctuary
LOL! Talk with each other and pretend it's 1995!
Displayed rates are exclusive of meals.. You can get food at the Campsite from the Dining Hall.
All units are Non-AC and accommodate up to 4 individuals (Adults + Children) with extra beds.
Log Huts and Suites feature one double bed for two, with an additional floor mattress if needed.
Your Booking Confirmation will be emailed post-payment. If technical issues prevent confirmation, expect a refund within 7 to 10 business days.
Prices start at: ₹1,650 per night (+taxes and fees)
Details
Prices start at: ₹2,700 per night (+taxes and fees)
Details
Guests:

4

Bed Type:

Double Bed
Prices start at: ₹3,500 per night (+taxes and fees)
Details
Guests:

4

Bed Type:

Double Bed
cultural and culinary workshop

recreational games & sports
Discover a Plethora of Activities
Enhance your Mahal Campsite visit with an array of delightful experiences. Join a guided Nature Trail in the sanctuary or engage in cultural and culinary workshops. Unwind by a campfire, stargaze, or spot captivating bird and butterfly species by day.
*Workshops and Recreational Games & Sports are subject to availability.
embrace the Essence of Purna Wildlife Sanctuary
Mahal Campsite – A Haven for Nature Enthusiasts Seeking Tranquil Leisure
Simple Directions. Embark on a picturesque journey to Mahal Campsite, traversing the lush, dense forests of Purna Wildlife Sanctuary—a visual treat in itself. Locate us effortlessly on Google Maps and click 'Directions' to guide you directly to our serene haven.